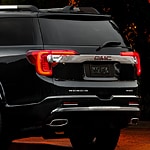 The all-new GMC Acadia was released in early 2020 and it was an instant hit. The popular SUV is back for the 2022 model year and it's better than ever. Here's a look at what to expect from the Acadia's exterior features.
The Acadia's exterior has been completely redesigned and it looks amazing. The new design is more modern and sleek, and it's sure to turn heads when driving. The SUV is also now available in a variety of new colors, so you can choose the perfect one for your taste.
As far as features go, the Acadia comes standard with LED headlights and taillights, and there are also several optional features that you can add on. These include a panoramic sunroof, a hands-free tailgate, and 20-inch wheels.
If you're looking for an SUV that looks great and has all the latest features, the GMC Acadia is a perfect choice.